Nowadays, UV printing business is known for its profitability, and among all the jobs that UV printer can take, printing in batches is no doubt the most profitable job. And that applies to many items such as pen, phone cases, USB flash drive, etc.
Normally we only need to print one design on one batch of pens or USB flash drives, but how do we print them with high efficiency? If we print them one by one, it would be a time-wasting and torturing process. So, we would need to use a tray(also called pallet or mould) to hold these items together in one time, just as the picture shows below: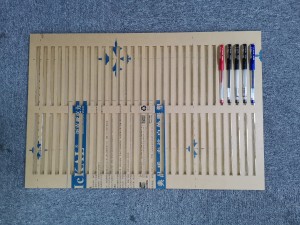 Like this, we can put dozens of pens in the slots, and put the whole tray on the printer table for printing.
After we put the items on the tray, we also need to adjust the position and the direction of the item so we can make sure the printer can print on the exact spot we want it to.
Then we put the tray on the table, and it comes to the software operation. We need to get the design file or a draft of the tray's to know the space between each slot both in X-axis and Y-axis. We need to know this to set the space between each pictures in the software.
If we only need to print one design on all items, we can set this figure in the control software. If we need to print multiple designs in one tray, we need to set the space between each pictures in the RIP software.
Now before we do real printing, we need to do a test, that is, to print pictures on the tray covered with a piece of paper. That way, we can make sure nothing is wasted in trying.
After we get everything right, we can do the actual printing. It may seems troublesome even to use a tray, but the second time you do this, there will be much less work for you.
If you want to know more about the process of printing on items in batches on tray, feel free to send us a message.
Here are some feedback from our clients for reference:
---
Post time: Aug-24-2022