Acrylic Keychains - A Profitable Endeavor
Acrylic keychains are lightweight, durable, and eye-catching, making them ideal as promotional giveaways at trade shows and conferences. They can also be customized with photos, logos, or text to make great personalized gifts.
The acrylic material itself is relatively inexpensive, especially when purchasing full sheets. With the addition of custom laser cutting and UV printing, the keychains can be sold at a good profit margin. Large corporate orders for hundreds of customized keychains can bring in significant revenue for your business. Even smaller batches of customized keychains make great gifts or souvenirs to sell on Etsy or local craft fairs.
The process of making acrylic keychains is also relatively simple with some design know-how and the right equipment. Laser-cutting acrylic sheets and UV printing can all be done affordably with a desktop laser cutter/engraver and UV printer. This makes starting an acrylic keychain business quite accessible. Let's look at the step-by-step process.
How to Make Acrylic Keychains Step-by-Step
1. Design the Keychain Graphics
The first step is to create your keychain graphics. This will likely involve some combination of text, logos, decorative elements, and photos. Using design software like Adobe Illustrator, create each keychain design with the following specifications:
- Outline stroke thickness of 1 pixel
- Vector not raster images whenever possible
- Include a small circle inside each design where the key ring will pass through
- Export designs as DXF files
This will optimize the files for the laser-cutting process. Make sure all outlines are closed paths so the interior cut-out pieces don't get lost.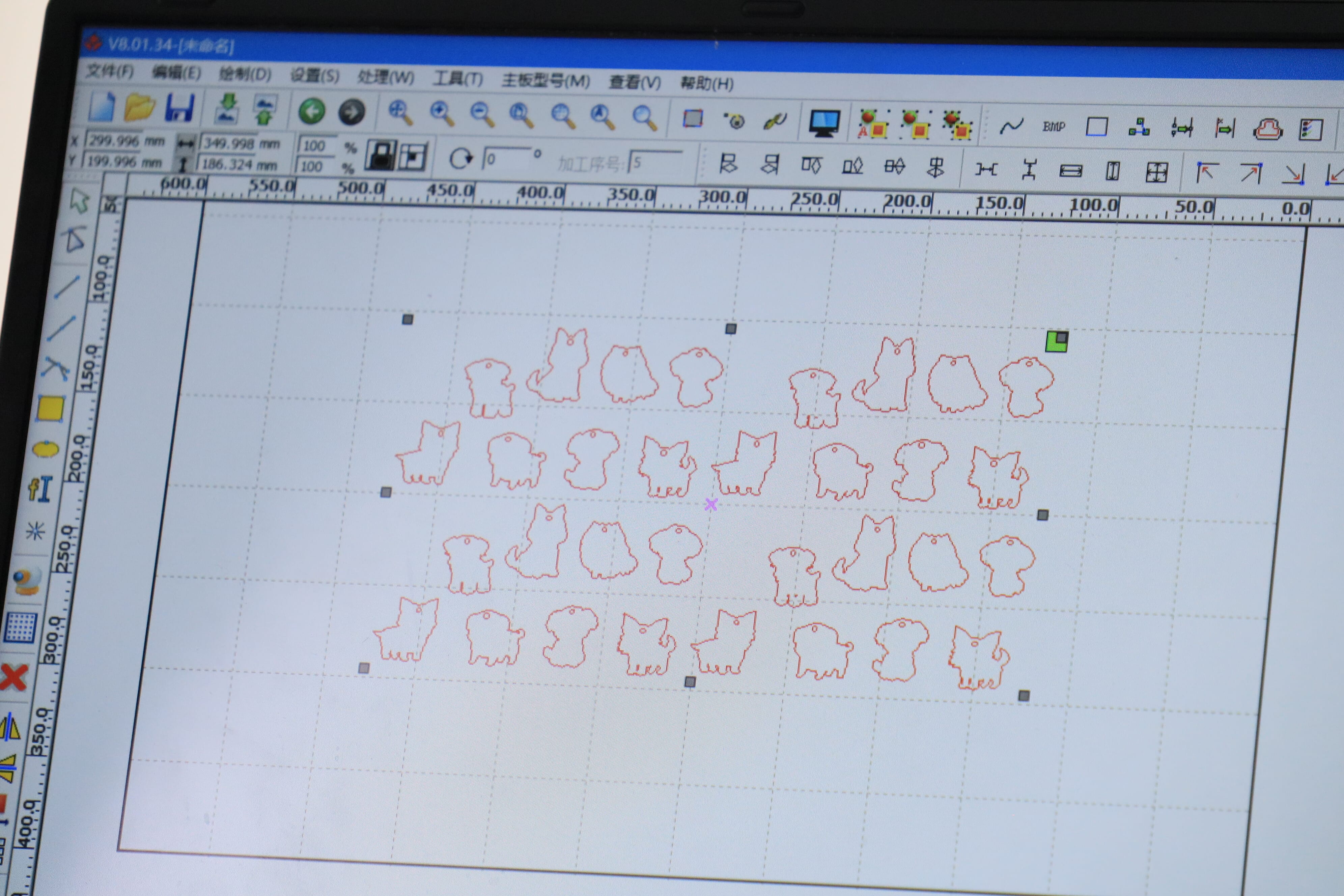 2. Laser Cut the Acrylic Sheet
Remove the protective paper film from the acrylic sheet before placing it on the laser bed. This prevents smoke buildup on the film during cutting.
Place the bare acrylic sheet on the laser bed and do a test outline engrave. This ensures proper alignment before cutting. Once aligned, begin the full cut. The laser will cut out each keychain design following your vector outlines. Ventilate the laser well as acrylic produces quite a bit of smoke when cut.
When finished cutting, leave all the pieces in place for now. This helps keep all the small pieces organized for printing.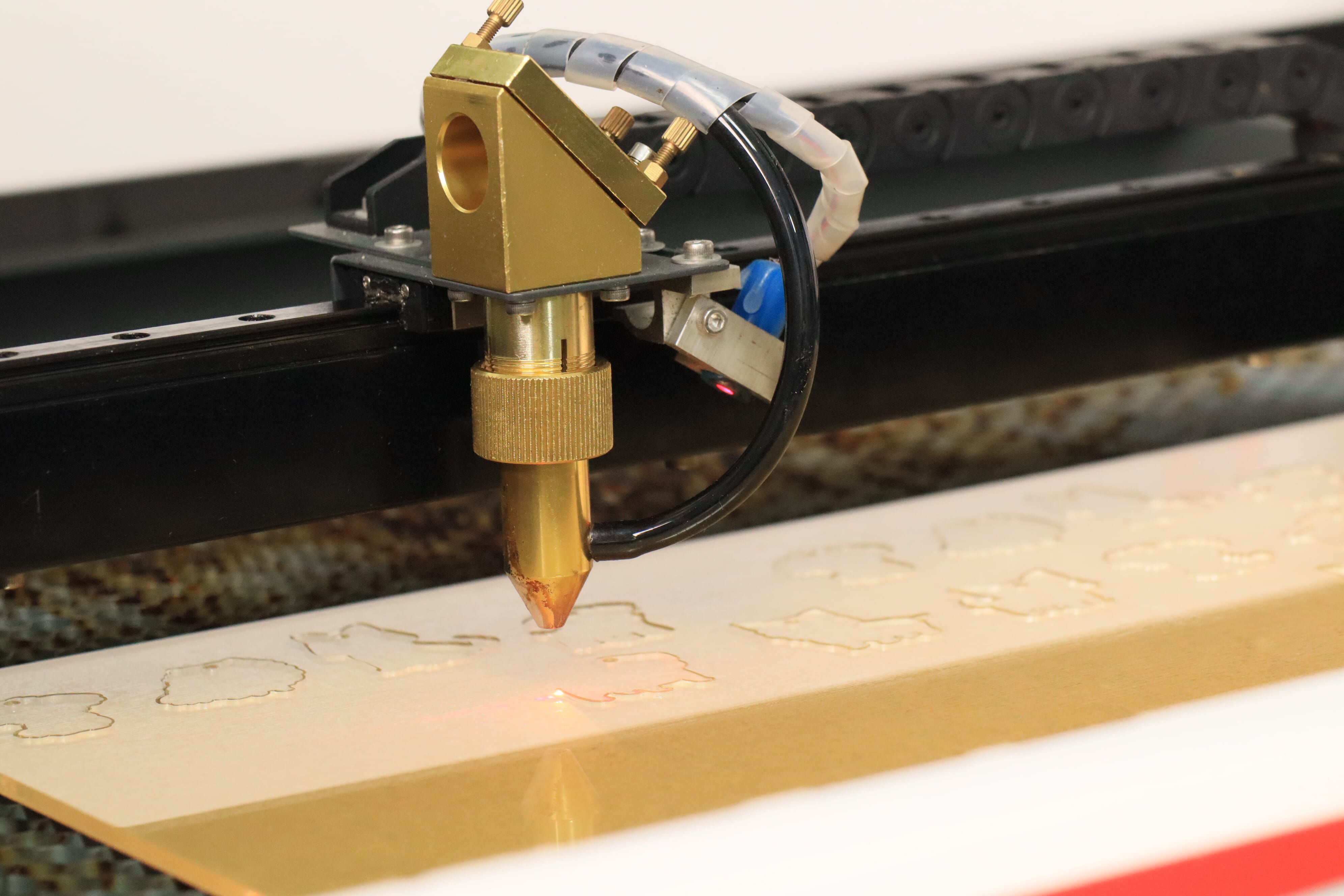 3. Print the Keychain Graphics
With the acrylic cut, it's time to print the graphics. Prepare the designs as TIFF files for printing and assign spot white ink where needed.
Load the bare printer table and do some test prints of the full designs on scrap acrylic to get the print height and alignment adjusted properly.
Once dialed in, print the full designs onto the printer table. This provides a guide for placing the acrylic pieces.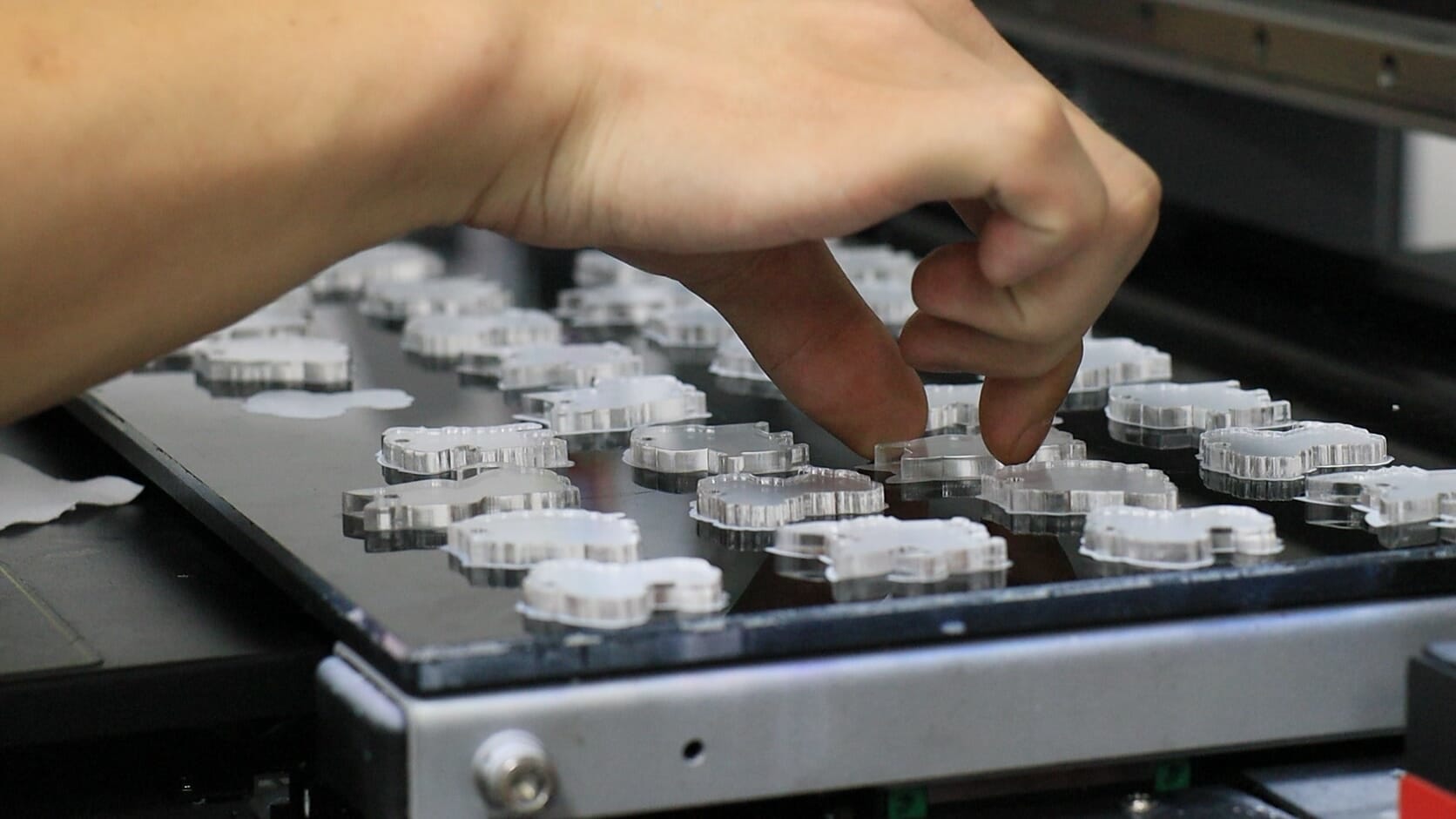 Remove each laser-cut acrylic piece and carefully place it over its corresponding printed design on the table. Adjust the print height for each piece as needed.
Print the final graphics onto each acrylic piece using the prepared TIFF files. The images should now align perfectly with the background guide print. Take care of removing each finished piece and setting it aside.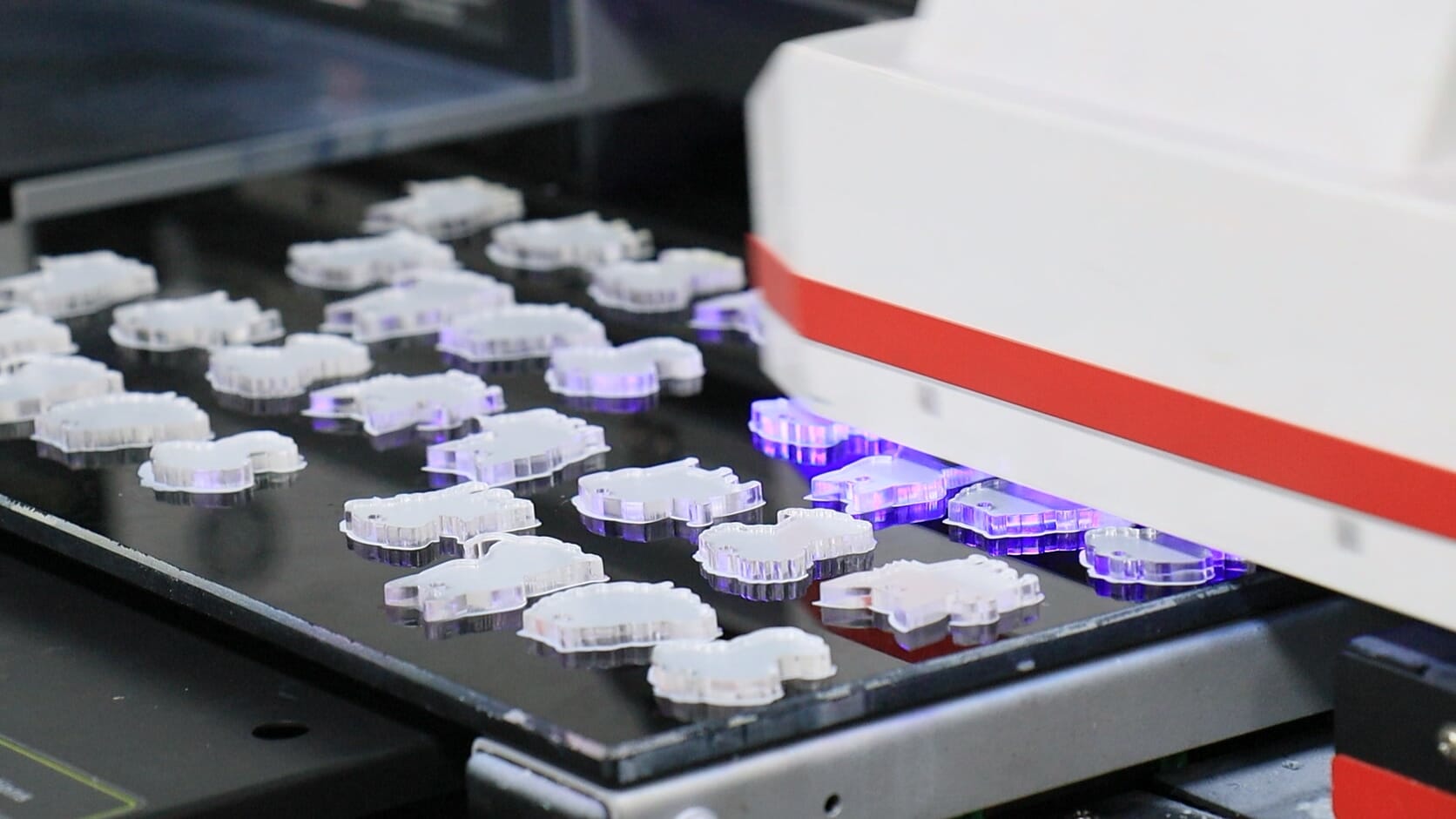 4. Assemble the Keychains
The last step is to assemble each keychain. Insert the key ring through the small circle built into each design. An added dab of glue helps keep the ring in place.
Once assembled, your custom acrylic keychains are ready for sale or promotion. With some practice, streamlining the production, and buying supplies in bulk, acrylic keychains can be a steady source of profits and great customized gifts.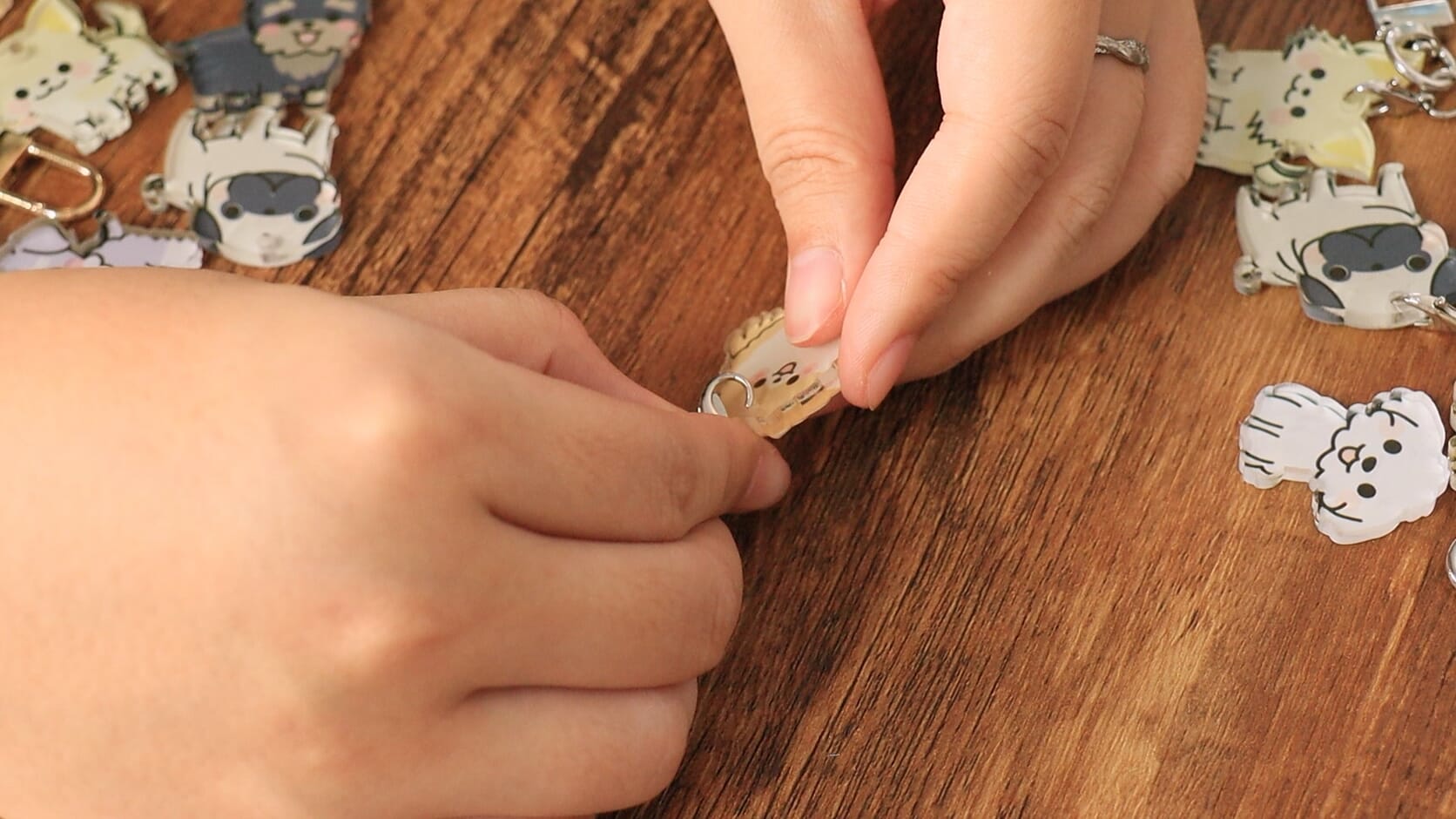 Contact Rainbow Inkjet for Your UV Printing Needs
Hopefully, this article provided some insights into starting your own acrylic keychain business or just making some personalized gifts. To take it to the next level though, you need professional-grade equipment and supplies. This is where Rainbow Inkjet can help.
Rainbow Inkjet manufactures a full line of UV printers suitable for high-quality acrylic keychain printing. Their printers come in a range of sizes to match any production needs and budget.
The expert team at Rainbow Inkjet can also provide guidance on ink formulas, print settings, and workflow tips tailored specifically for acrylic. Their technical knowledge and responsive customer support ensure you get up and running quickly.
In addition to UV printers, Rainbow Inkjet offers a complete range of compatible UV inks, replacement parts, and other printing supplies.
So if you're looking to step up your acrylic keychain printing or want to start your printing business, be sure to contact our professionals. Our high-quality printers, expert advice, and friendly service provide everything you need to succeed.
---
Post time: Sep-14-2023